Designed and manufactured in Australia
Your Gardenbay Window can be easily fitted into your existing window frame and is specially made to fit exactly – no mess, no fuss. DIY in a couple of hours or have your Gardenbay Window fitted by our trained professional installers. No matter what type of home or window you have a Gardenbay Window can be fitted to transform your home.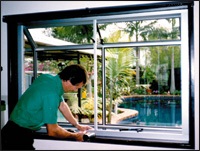 Gardenbay Windows will transform your home...